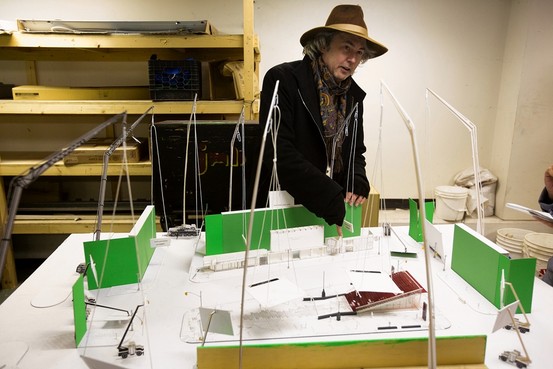 Tax-Policy Web Lures 'Spider-Man' Film Here
New York City is an essential character in the Spider-Man series, with looming skyscrapers providing the backdrop for aerial chase scenes, but versions of the movie have been primarily filmed in Los Angeles.
Until now. "The Amazing Spider-Man 2," which is expected to open in May 2014, is the first film about Gotham native Peter Parker, Spider-Man's alter ego, to be shot entirely in New York.
The film has a budget of more than $100 million. The production sprawls over about 300,000 square feet at four facilities in Long Island and Brooklyn.
"When you decide to place a film, you obviously have to start with the script. Because Peter Parker lives in New York, there was always a component of having to be in New York," said Bennett Walsh, the film's executive producer.
The film's producers said, however, they were ultimately drawn from Los Angeles to New York by the maturing film-production industry here. Tax incentives offered by the state amount to 30% of the film's production expenses, which includes ticket items such as makeup, plywood, trucks and lighting (but not actors' salaries).
The producers and state declined to say how much "The Amazing Spider-Man 2" is expected to receive in tax credits, which won't be calculated until after they finish filming. Similarly large films have receive credits worth millions of dollars.
A movie-set replica of the steps next to the Times Square TKTS ticket booth takes shape in Bethpage.
Claudio Papapietro for The Wall Street Journal
The movie began shooting Feb. 1 and will take 151 days to shoot, but just a few dozen will take place on locations in the city and upstate. They will spend one day filming in the real Times Square, but 50 to 65 days shooting on Long Island.
Mr. Walsh said it is less expensive to recreate many of the city's well-known locations, even though it takes about six weeks to build many of the sets.
The film is being shot at Marcy Armory in Brooklyn, as well as at Long Island's Gold Coast Studios and Grumman Studios, both in Bethpage.
The set hints at life beyond high school, including a Columbia University dormitory room that appears to be outfitted for female freshman, with sparkly sneakers and film-noir posters.
Few details about the film have been released but a synopsis says that for Peter Parker, played by Andrew Garfield, "high school graduation can't come quickly enough." Mr. Parker continues to pursue love interest Gwen, played by Emma Stone, battles new villain Electro and uncovers new clues about his past.
The film is set largely in modern-day New York, with a newly commercialized Times Square that features Blue Fin, a seafood restaurant at W. 47th Street and Broadway, and American Eagle Outfitters. To recreate the effect of Times Square's flashing lights, the producers brought in 16 cranes with lights and green screens. But at least one of the film's 40 sets thrusts back to an earlier time. The subway station the crew constructed in about six weeks features skylights and Art Deco columns that most closely resembled a station under City Hall that closed in 1945.
New York state allocates $420 million each year in tax credits to the entertainment industry, and last year lured 57 productions here. Gov. Andrew Cuomo is trying to extend the tax credit, which expires next year, for five years in the budget.
"The Amazing Spider-Man 2" is expected to create 3,500 jobs, but one issue is that much of the job creation happens in already wealthy areas of the state such as New York City and Long Island. Spider-Man will go to Rochester to film a chase scene because speed laws upstate aren't as restrictive as New York City's.
From The Wall Street Journal  Photo: Claudio Papapietro for The Wall Street Journal