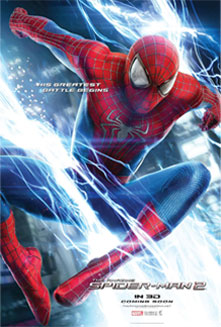 Spider-Man 2 to Be the Largest Movie Production Shot in New York
Governor Andrew M. Cuomo today announced that "The Amazing Spider-Man 2" will be the largest movie production to be filmed in New York and is expected to result in 3,500 jobs and the casting of 11,000 extras. The production will have the biggest stage footprint ever seen in New York with massive sets being constructed at three facilities in Long Island and Brooklyn. Scenes will be shot both upstate and downstate.
"There is no better place to film the next adventure of Peter Parker than right here in the Empire State," Governor Cuomo said. "New York has the resources, talent and locations to help make 'The Amazing Spider-Man 2' a blockbuster hit. This production will also help generate new jobs and economic activity both upstate and downstate which is great news for our local communities and fans of the franchise."
Gary Martin, President, Production Administration, Columbia TriStar Motion Picture Group, said, "From Rochester to Manhattan, this is the first time an entire Spider-Man production will be shot in The Empire State. We are thrilled with the extraordinarily skilled craftspeople, crew and facilities that exist throughout the region and all of the local businesses whose work will help make this project possible. By shooting the film in New York, we are able to streamline our production needs and realize enormous benefits and efficiencies as a result of the state's motion picture tax incentive program. Plain and simple, this is a win-win for the state and our production."
"The Amazing Spider-Man 2" production expects to require 3,500 new hires, one-third of whom will be from Long Island, and 11,000 extras, one-fourth to one-third of whom will be from Long Island. Upstate, the production expects to hire approximately 250 crew members and a few hundred extras.
The production is so large that it will use space at two separate stage facilities on Long Island, Grumman Studios and Gold Coast Studios, as well as the Marcy Armory in Brooklyn. The production expects to shoot for 150 days, including 50 days in Bethpage and 10 to 15 days in Rochester. This Friday, the production will be scouting locations in Rochester for scenes, one of which will be a car chase.
Filming "The Amazing Spider-Man 2" in New York will generate millions of dollars in economic activity across the state. For example, the production will require 3,000 hotel room nights in Rochester as well as 3,000 hotel room nights in Bethpage and Plainview on Long Island. In addition, the production is using several Long Island-based businesses for purchasing food and equipment, including spending approximately $279,000 for container rentals from Mobile on Demand Storage of NY, Inc. in East Patchogue, $130,000 in crane rentals from Pride Equipment Corporation in Islip, $32,000 for beverages from U.S. Coffee in Hicksville, $19,000 for auto parts from Quick Auto Parts in Hicksville, and $16,000 for food from Bagelboss in Hicksville.
Many movie productions, including "The Amazing Spider-Man 2," have touted New York State's film tax credit program as a major incentive when choosing New York as the location to film. Since the film tax credit program started in 2004, it has leveraged an estimated $12.1 billion worth of direct spending and has been a huge job generator for New York.
In 2012 alone, it is estimated that the 134 projects that have applied for the program will result in $2.2 billion in spending in New York. The State is now being billed as "Hollywood East."
Since Governor Cuomo took office, the program has averaged 134 applications per year, nearly double the average of 72 per year over the life of the program prior to January 2011. In this year's budget, Governor Cuomo has proposed a 5-year extension of the program and other changes to increase transparency and accountability.