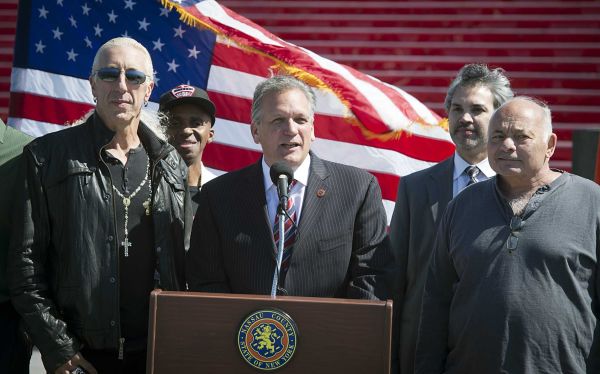 Film industry generated $140M for Nassau
Nassau County Executive Edward Mangano on Tuesday released a study showing that the film entertainment industry provided $140 million in economic benefit to Nassau last year.
The movie and television business also generated more than $800,000 in sales and hotel taxes, Mangano said at a news conference on the back lot of Gold Coast Studios in Bethpage. He said the industry employed nearly 2,000 people.
"Nassau County is becoming the Hollywood East of the motion picture and television industry as productions . . . have been attracted to our unique facilities," Mangano said.
The study was done for the county's Industrial Development Agency by Camoin Associates, an economic development consultant headquartered upstate in Saratoga Springs.
Those facilities — primarily the three sites that formed the basis of the Camoin study — are: Grumman Studios and Gold Coast Studios, both in Bethpage, and the Sands Points Preserve, frequently used in television and movie productions.
Tuesday's news conference was held at the Gold Coast's "Times Square" lot, where, according to Mangano, parts of the "Spider-Man 3" movie were shot.
Dee Snider, the former frontman for the heavy metal group Twisted Sister, and his sons Cody and Shane made a movie, "Fools Day," which last month won the top award at the Long Beach Film Festival.
"Long Island has everything except mountains, and could one day be ahead of the West Coast in movie making," said Snider, who grew up in Baldwin and lives part time in Setauket.
Burt Young, of Port Washington, who played Sylvester Stallone's brother-in-law and best friend Paulie in the "Rocky" films, also attended the news conference.
Mangano said that in 2012, Nassau hosted more than 650 production days, and that movies and television shows filmed here have included "Winter's Tale," "Found Footage," "Boardwalk Empire," "The Good Wife," "Four Weddings" and "The Americans."