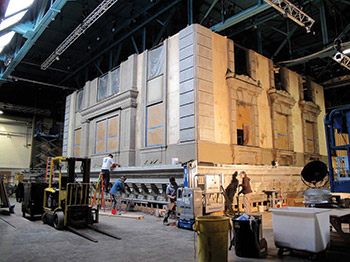 Film Industry Returning to Long Island
Coinciding with the in North Hempstead, Nassau County Executive Edward Magano says he is excited about two new movie studios attracting the movie industry to Long Island. He says Gold Coast Studios and Grumman Studios both in Bethpage, will bring jobs and a much-needed economic boost to Long Island.
"We have a rich history it goes back to Citizen Kane shot at Oheka Castle in Huntington to The Godfather (scenes were) shot at … I'm very proud that Nassau County now has actual film studios, so we can invite production companies into the county to do extensive filming as opposed to just getting the scenic shots," says Mangano.
Gold Coast Studios boasts 40,000 square feet of column-free space and is located in the former Grumman facility in Bethpage. It's owned by brothers Joe and Glenn Lostritto. It recently hosted the filming of the soon to be released film "Man on a Ledge", starring Sam Worthington and Elizabeth Banks. The crew recreated the ledge of the New York City hotel featured in the film. Gold Coast Studio co-owner Joe Lostritto says they're building the place for the filmmakers to come. "What we're trying to create is the studio for them to be based out of… it's our belief that if they have a base to work from, then they'll film even more in the surrounding areas."
Gold Coast Studios also houses the set for the new TV show Pan Am, which was recently picked up by ABC. These films mean big-time jobs for county residents says co-owner Glenn Lostritto, who says Man on a Ledge proved it. "There were probably 80 full-time carpenters working there for 6 to 8 weeks just building these sets… it's really a form of manufacturing back here on Long Island, especially in a facility like this Grumman where at one point there were 20,000 people that were here working in the factories and obviously a lot of that work has dried up."
"Where do you see job creation like this? It's great jobs, good paying jobs and a lot of them. This was just one movie with almost 400 employees and when you multiply that by numerous stages, it's a lot of jobs," says Joe Lostritto.
Gold Coast Studios has also partnered with the upcoming Gold Coast Film Festival to promote and encourage more movie making on Long Island. While the Lostrittos wouldn't reveal potential future projects, they did hint that major names in the film industry have expressed interest in working there. They anticipate there will be some big news coming soon.